Hira Zukuri - Damascus Steel Knife with Vinyl Wrap Handle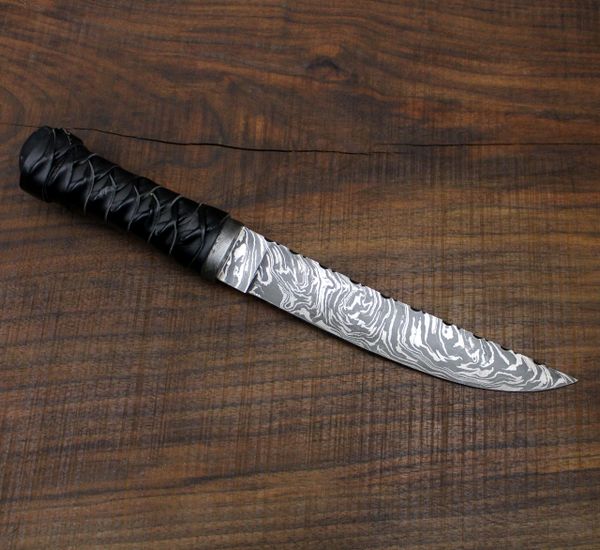 Hira Zukuri - Damascus Steel Knife with Vinyl Wrap Handle
Knife length: 13.5"

Blade length: 7.5"  a zero flat grind and jimped spine hira zukuri blade

Weighs approximately 400 grams

Handle crafted from Vinyl braid wrap around wood

Sheath crafted from genuine hand-stitched cowhide leather - custom made to fit like a glove

This blade is hand forged with 1095 and 15N20 high and low carbon steel. It's upto 58 HRC on Rockwell Scale. Very Tough and Durable.


---


Note: The Damascus blades in our knives are all 100% Genuine and Hand-forged. When layers of steel are melted, hammered, twisted, cut, and re-melted and hammered - they're given a unique pattern unlike any other. This process is what allows each Damascus knife to be unique and one of a kind. None of our knives have the pattern printed on them. They're all products of hard work and craftsmanship backed by years of experience.



We recommend regular maintenance/cleaning of all damascus blades with coconut oil. This prevents any rusts on the steel and will play a key role in your knife lasting a Lifetime

Must be 18+ of Age for purchase.

Reviews