Zodiac XL - Large double edged damascus dagger with camel bone and brass handle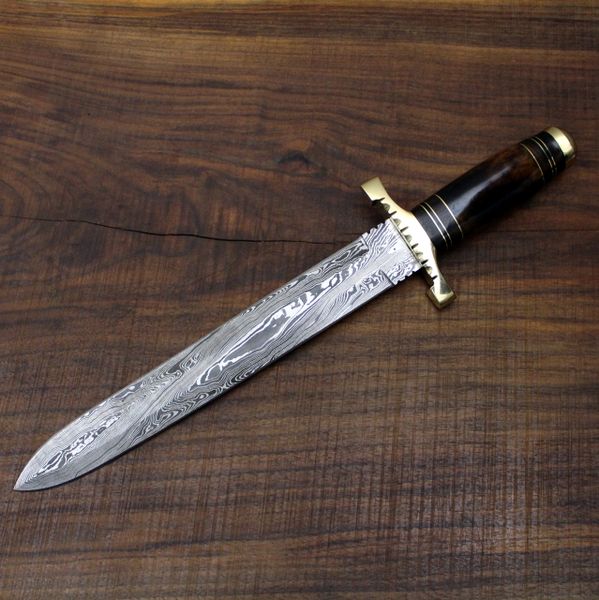 Zodiac XL - Large double edged damascus dagger with camel bone and brass handle
Knife length: 16"

Blade length: 10.5" double edged with a 3/4" ricasso

Weighs approximately 1 lbs

Handle crafted from Rounded dyed camel bone with solid brass guard and butt

Sheath crafted from genuine hand-stitched cowhide leather with belt loop and brass snap button

This blade is hand forged with 1095 and 15N20 high and low carbon steel. It's upto 58 HRC on Rockwell Scale. Very Tough and Durable.
Note: The Damascus blades in our knives are all 100% Genuine and Hand-forged. When layers of steel are melted, hammered, twisted, cut, and re-melted and hammered - they're given a unique pattern unlike any other. This process is what allows each Damascus knife to be unique and one of a kind. None of our knives have the pattern printed on them. They're all products of hard work and craftsmanship backed by years of experience.

We recommend regular maintenance/cleaning of all damascus blades with mineral or coconut oil. This prevents any rusts on the steel and will play a key role in your knife lasting a Lifetime and for Sharpening to use oil whetstones at 5k grit and 1k grit. The grinds are all flat sabers with a secondary bevel unless stated otherwise.

Must be 18+ of Age for purchase.


Reviews